2o Raduno Area Mediterranea
Τρίτη, 11 Φεβρουάριος 2014
Dear Guzzisti!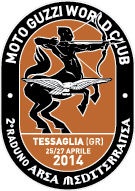 The Hellenic Moto Guzzi Club is very proud to host the "2nd Gathering of the Mediterranean Area".
The gathering will take place on the 25th, 26th and 27th of April 2014.
The event will be based at Kalambaka (Thessaly, Greece) around the area of Meteora.
We are expecting a large crowd of fellow Guzzisti, so follow the appropriate link and book your place now!
You can choose the type of accommodation that suits you best.
Our club will have a hospitality arrival team in place at Igoumenitsa, since the very early hours of Friday the 25th, so to help all of you arriving via ferry from Italy.
The registration will take place on Friday afternoon.
The same team will help you with your departure on Sunday.
The program will include visits to Metsovo, a ride on the mountains around Kalambaka, visit of the Meteora monasteries, a technical seminar, various cultural activities and of course on Saturday night our club will offer everyone a dinner complete with a live music party!
Remember to follow the facebook event for continuous updates and comments.
We are expecting you!
---
Cari Guzzisti!
La Hellenic Moto Guzzi Club è molto orgogliosa di ospitare il "2 ° Raduno Area Mediterranea".
L'incontro si svolgerà il 25, 26 e 27 aprile 2014.
L'evento sarà basato a Kalambaka (Tessaglia, Grecia) intorno alla zona di Meteora.
Ci aspettiamo una grande folla di compagni di Guzzisti, quindi attenersi il link appropriato e prenota il tuo posto!
Il club avrà una squadra arrivo ospitalità in atto a Igoumenitsa, fin dalle prime ore di Venerdì 25, in modo da aiutare tutti voi che arrivano con il traghetto da Italia.
La registrazione avrà luogo nel pomeriggio di Venerdì.
Lo stesso team vi aiuterà con la vostra partenza di Domenica.
Il programma prevede visite a Metsovo, un giro sulle montagne intorno a Kalambaka, visita dei monasteri di Meteora, un seminario tecnico, varie attività culturali e, naturalmente, nella notte di Sabato nostro club offrirà a tutti una cena completa con una festa di musica dal vivo!
Ricordatevi di seguire l'evento facebook per continui aggiornamenti e commenti.
Vi aspettiamo!
---
Chers Guzzisti!
Le Club hellénique Moto Guzzi est très fier d'accueillir le "2ème Rassemblement de la Region Méditerranée".
Le rassemblement aura lieu le 25, 26 et 27 Avril 2014.
L'événement sera basé à Kalambaka (Thessalie, Grèce) autour de la zone des Météores.
Nous nous attendons à une grande foule de compatriotes Guzzisti, alors suivez le lien approprié et réserver votre place dès maintenant!
Notre club aura une équipe d'arrivée de l'hospitalité en place à Igoumenitsa, depuis les premières heures du vendredi 25, afin de permettre à tous vous arrivant par ferry de l'Italie.
L'enregistrement aura lieu le vendredi après-midi.
La même équipe va vous aider avec votre départ le dimanche.
Le programme comprendra des visites à Metsovo, un tour sur les montagnes autour de Kalambaka, visite des monastères des Météores, un séminaire technique, diverses activités culturelles et bien sûr le samedi soir notre club offrira à tous un repas complet avec une fête de la musique live!
N'oubliez pas de suivre la page Facebook de l'événement pour les mises à jour continues et commentaires.
Nous vous attendons!
Τελευταία ενημέρωση Τετάρτη, 09 Απρίλιος 2014